We'd like you to take a journey through the ancient streets of Lviv, to feel the atmosphere of the ages, to plunge into a world of medieval architecture, all of which the famous lover Casanova himself admired only a few centuries ago. This city is enveloped in the mysterious light of old lanterns and the aromatic smell of coffee; its buildings exude a unique combination of sounds, shadows, and legends…we will tell you about the unforgettable stories of love that, throughout hundreds of years, have shaped and developed the history of the city and its people. You will visit Lover's Terrace, the Italian Courtyard, High Castle, the Bernardine and Dominican Churches, and many, many more well-known places in Lviv that, throughout the ages, have kept the secrets of their lovers safe!
And, at the end of your walk, a wonderful surprise awaits you in the «Lviv Chocolate Factory» – a place where sweet memories are created…
A romantic lunch in a cozy restaurant of a hotel-legend "George".
After lunch we will return to the old streets of Lviv to discover exactly why people here love coffee so much. The secret may lie in the fact that Lviv-style coffee can only be prepared in Lviv. You can only taste real Lviv coffee in the old area of the City of Lions, and nowhere else!
Are you intrigued? If so, we invite you to have a cup of coffee and some dessert with us! We will visit one of Lviv's most renowned confectionery shops – «Tsukernia», whose confectioners follow the traditions of ancient Galician recipes and use only the best natural ingredients.

During your «romantic tour», you will also:
- visit King Jan III Sobieski in his Lviv residence – the Royal Chambers;
- spend some time in the «gem of European architecture» – the Lviv Theater of Opera and Ballet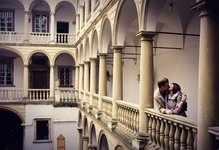 And then…well, what's a romantic tour without a romantic dinner? One of the best restaurants in Lviv, located in the very heart of the city, will provide the setting for a candlelit dinner that will be accompanied by soothing piano music or jazzy saxophone melodies…Wow, this can turn out to be quite the romantic time, and will definitely leave you with fond memories of your «sweet» days in Lviv! After all, Lviv is a city in which, even among the crowds of people, you'll both feel like it's just the two of you surrounded by the intoxicating atmosphere of love!
Attention! We work with each client on an individual basis.
Price includes:
Lunch and dinner, Entrance fees to all museums, Guide services from 10:00-18:00
A sweet gift at the Lviv Confectionary as a refreshment and souvenir!